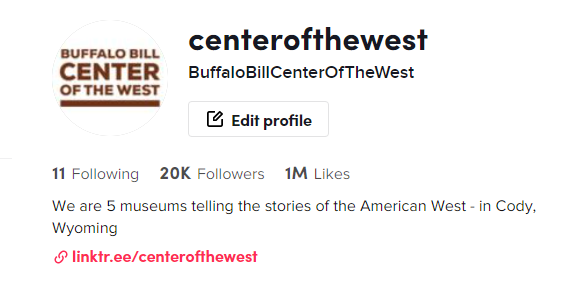 The Buffalo Bill Center of the West has joined the trend of creating a TikTok page for their institution.
Growing up just outside Cody, Wyoming, I would always come to Buffalo Bill Center of the West at least a couple times a year, whether on school trips or as part of a family outing. My experience with the Center came full circle when I got an internship at the Center this summer going into my senior year of college. I am a marketing and journalism student at the University of Wyoming, so when I was looking for an internship that matched my interests, one at the Center just seemed like the right fit. The idea of working at an educational institution with remarkable history, that is close to home and has the job description I want, made for an easy decision.
The main focus of my work would be social media content. Specifically, my main project would be launching a TikTok account for the Center. Although I've created social media content for internships and other organizations while in college, I had never worked with TikTok content before. I won't hide the fact that I find it a little intimidating. There are so many accounts on this platform that have done well, but there are so many more that haven't. The algorithm seems to make no sense at times and trends die fast. However, my prior experience in video creation and video editing came in handy here, so I was able to apply those skills, do my best, and see what I could come up with.
Research
My first few days were devoted to research on what to do and how to start this account. My goal was to figure out what other popular museums did right and how I could adapt it to the Center of the West based on their TikToks. The more I researched these other museums, the more I realized how much work actually went into creating a successful TikTok page.
Sounds: When you first visit TikTok, you may think there are tons of songs and usable sounds available. Even though there technically are, you need to keep in mind that this is a business account, so you can only use commercial sounds. To make sure only the commercial sounds are available, switch your account to a business account if you still have the option for regular sounds when creating videos. 
Times of Day to Post: You can gain more engagement on TikTok by posting during certain times of the day. My TikTok posting schedule was pretty consistently based on the Influencer Marketing Hub chart. Keep in mind that the chart is based on Eastern Standard Time, so you may need to adjust accordingly. Business accounts can schedule posts on their computers, but not on their phones. There are a few apps that help you schedule on your phone, but otherwise it has to be done manually.
Hashtags: It's strange how hashtags work. There are popular hashtags on TikTok that generate billions of views, and you'd think, "Oh, if I use this hashtag, it'll be included in the algorithm." Not so fast. It may not even be possible to get a lot of attention with the hashtags that have billions of views because they are much more competitive. To increase your chances of getting noticed, pick a niche, and use less competitive hashtags. I also started to hashtag unique words that were said in the video as it relates to those topics.
Editing: The TikTok app is not as difficult to use as you might think. You can crop your video, trim the length, add captions, overlays or text, and use a noise reduction feature. Having all of the features at your disposal should make it pretty easy to fix anything that goes wrong when recording. However, I did use Adobe Premiere to edit some longer videos, as I am certified in that software so I'm pretty comfortable with it.
Launching TikTok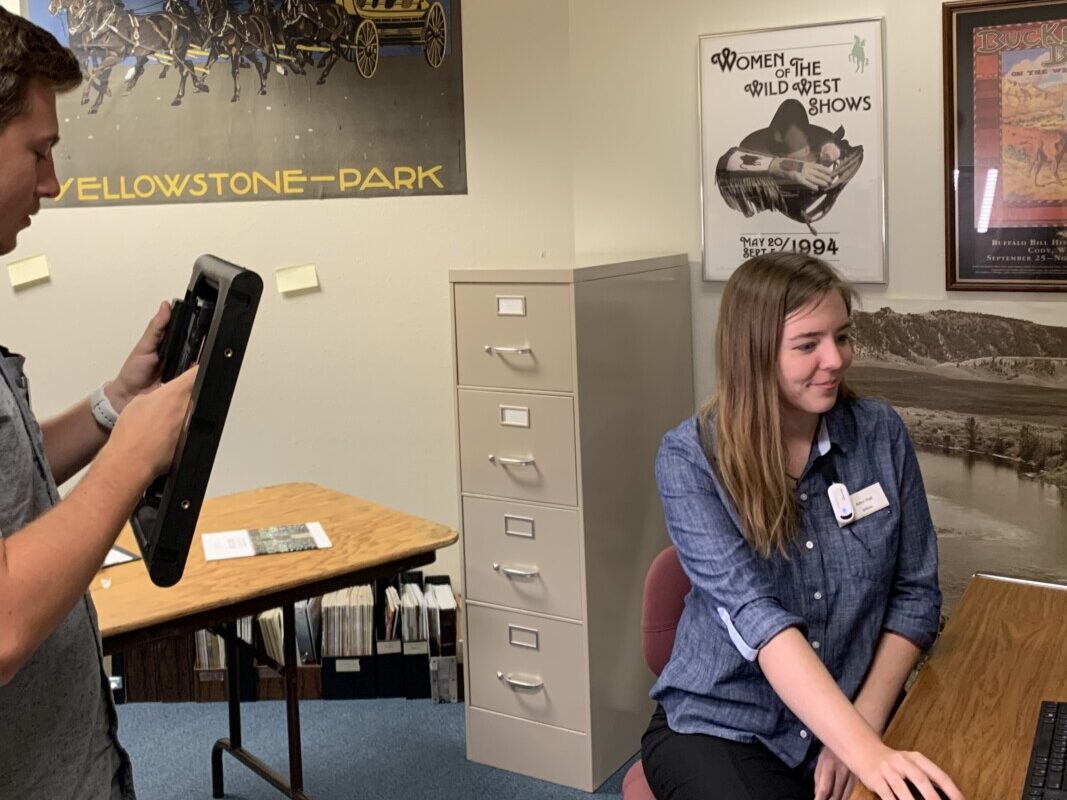 By the end of my first week, I had posted a couple of TikToks, but my second week was museum week, which is a series of seven days with seven distinctive hashtags to promote museums and engage museumgoers. In spite of the chaos, this week helped me build relationships with the staff at the museum, film several videos, and gain some traction for our following.
Audio: I was still getting used to the app and we had a different kind of microphone than I had used in the past, but I found it to be incredibly convenient. Using the Alvoxcon USB Wireless Microphones was simple because they were cordless, have multiple microphones for filming two people, have headphone monitoring, and the USB receiver can be plugged directly into my iPhone. When you don't have the ability to use extremely expensive professional equipment for every project, this is a very useful alternative.
Lighting: I used a Neewer Smartphone Stabilizer during all of my filming. My phone was easily placed in the rig, I could record videos via Bluetooth, and I could adjust the brightness and color temperature to suit whichever area of the museum I was in. When it came to filming videos, the light was a necessity because there are a lot of areas in the museum that are darkly lit.
The sensitivity of certain topics also had to be taken into account when creating videos. In order to comply with TikTok regulations and also to remain sensitive to the topic of guns in general, I had to be careful about what I posted for the Cody Firearms Museum. Instead of guns, I focused on old artifacts. It also was important to me to ensure that the items from the Plains Indian Museum were appropriate to be showcased, I had permission to show them, and that all the information was culturally and ethically correct.
Creation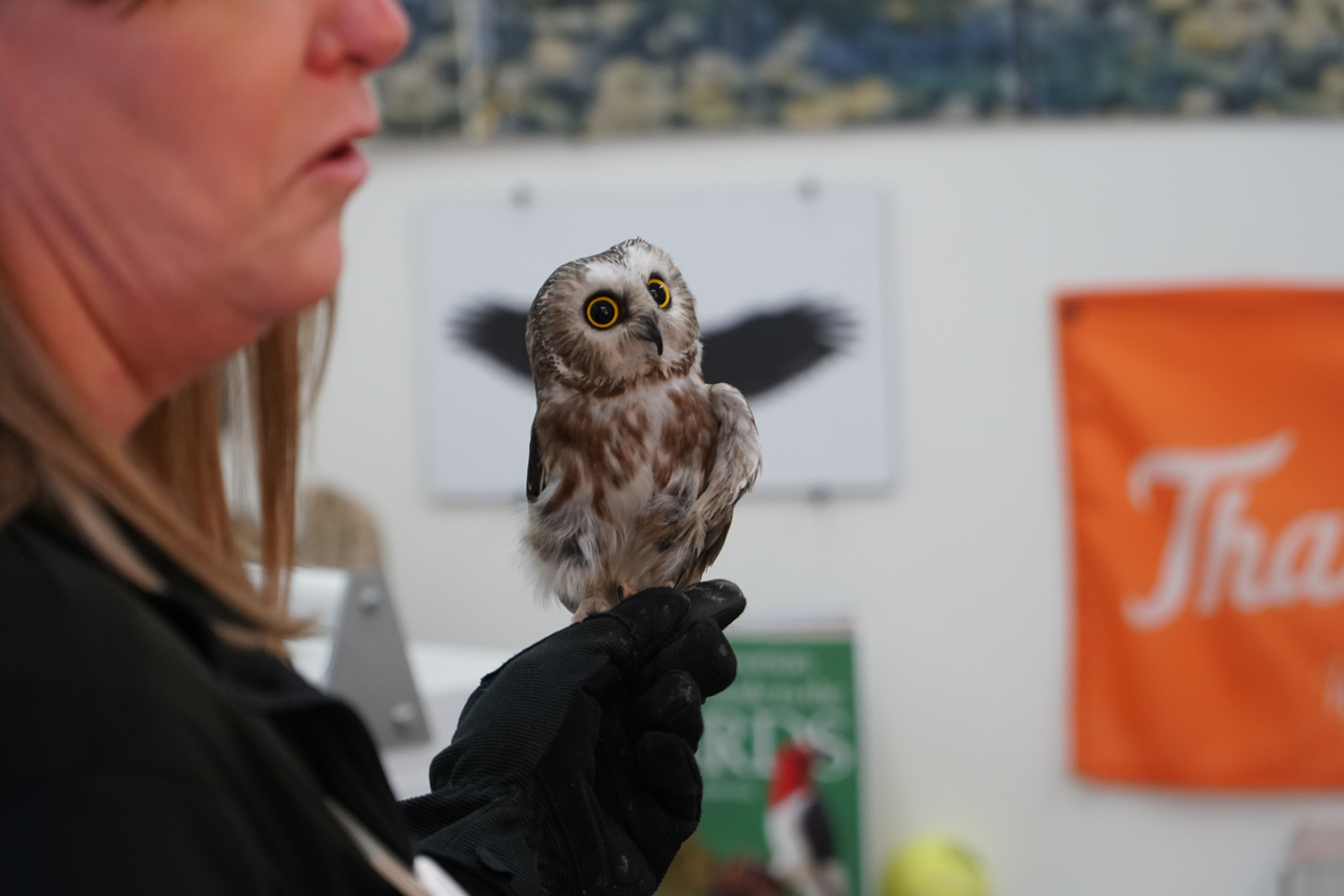 Since I needed to post multiple videos a day, I simply contacted everyone I knew in the museum's different departments. Since I was creating content for a museum, I naturally chose to go down the educational path since I felt like this was the type of content people would enjoy the most.
As a result of having five museums to choose from, I had lots of options to work with. The assistant curator of the Plains Indian Museum and I teamed up to show some indigenous items from our vaults behind the scenes. The Cody Firearms Museum provided me with some cool artifacts, such as cannons and swivel guns. The assistant curator of the Whitney Western Art Museum explained the background and history behind various paintings. I depicted how the Wild West was and went into detail about Buffalo Bill's life. However, there was one clear winner when it came to the most engaging videos: The Raptors.
The Draper Natural History Museum offers educational programs about 12 permanently non-releasable birds through the Raptor Experience. It is natural that animals will increase interaction, so I asked the staff of the raptor experience program to go a little more in depth about their personalities, their backstories, their lifestyles, and how they live now.
As a result of producing so many videos, it's clear that the ones that do best are the ones that provide uniqueness when focusing on TikTok's educational aspect. Showcase how you're different, why someone should visit your museum, and highlight some unique facts that not everyone knows. People will be more engaged if you can teach them something they've never considered before.
There were a couple funny videos I tried, but they didn't do too well. It doesn't seem to have worked in our museum despite adapting these previous popular trends to our museum. In content creation, you should always be willing to try new things, but you should also find a niche that keeps people coming back. It does not necessarily mean that something won't work for your museum page just because it didn't work for ours. However, if the ideas or video series you're considering doesn't help your page much, don't get too attached to them.
As a final note, I recommend trying your best to build your museum's TikTok page, post consistently, be creative, and don't get discouraged. It will take time for success to arrive.