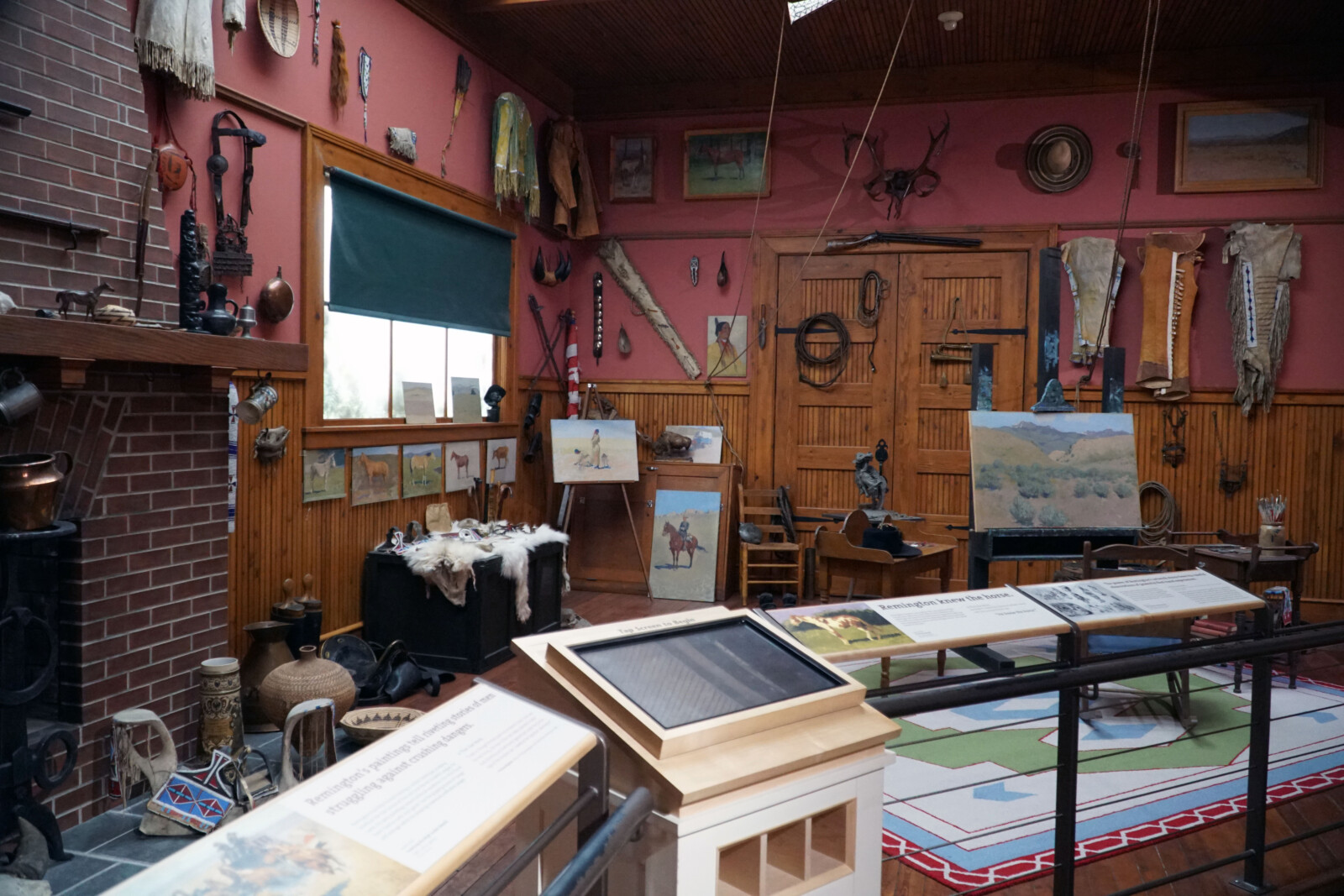 A diverse collection of artifacts, galleries, and specimens are featured within the Buffalo Bill Center of the West. Visitors can gain an understanding of Buffalo Bill's journey, honor Plains Indian culture, or discover Yellowstone's flora and fauna. In addition to the museum labels describing the history of the art, objects, and exhibitions within the museum, the various interactive touch screen kiosks provide a deeper insight into a variety of topics.
Kiosks with interactive capabilities are becoming more and more popular due to their simplicity, user-friendliness, and ease of updating. There are more than a dozen interactive kiosks all over the museum and help to create an immersive experience. They simplify the learning process as visitors have access to all the information on one screen by engaging visitors more deeply with exhibitions.
Draper Natural History Museum
Simulated Nest
This simulated nest provides a unique experience into the diet and habitat of golden eagles. Learn more about what they typically eat as you see actual specimens from the field such as cottontail rabbits, ravens, pronghorn fawns, and prairie rattlesnakes. It's a scavenger hunt to distinguish and uncover all of the prey remains within the nest. Can you find them all?
Bear Safety
There are five presentations in this series about bear safety. These videos highlighted some of the common sources of conflicts between people and bears and how they can be avoided. For example, you will learn about hiking in bear country, observing bears safely from the road, proper camping techniques, and managing food waste. The U.S. Forest Service funded this exhibit.
Golden Eagle Study Sites
With the click of a button on one of eight study sites in the western U.S., a video appears explaining how golden eagle populations live in places like Yellowstone National Park, the Central Utah Desert, and Denali National Park and Reserve. During the videos you'll meet the researchers, discover what makes each environment unique, and compare reproduction rates, as some of these birds have been studied from infancy to adulthood.
Research Methods and Tools
Gain a better understanding of how golden eagles are typically studied by researchers by exploring tools used in field research. For instance, tools like spotting scopes, satellite transmitters, and eagle hoods. Researchers use these tools to explain everything from how they test for the presence of diseases to how to handle them in captivity. They also explain the methodology for identifying unique birds and tracking movements over long distances.
Dr. Preston's Fieldwork Journal
This is Dr. Charles Preston's journal with his real fieldwork notes turned into a digital book. It documents his experiences while conducting research on golden eagles. These detailed notes describe the lifestyles, behaviors, diets, and daily routines of these fascinating animals and helped with proper articulation when creating the documentary "Golden Eagles: Witnesses to a Changing West."
Plains Indian Museum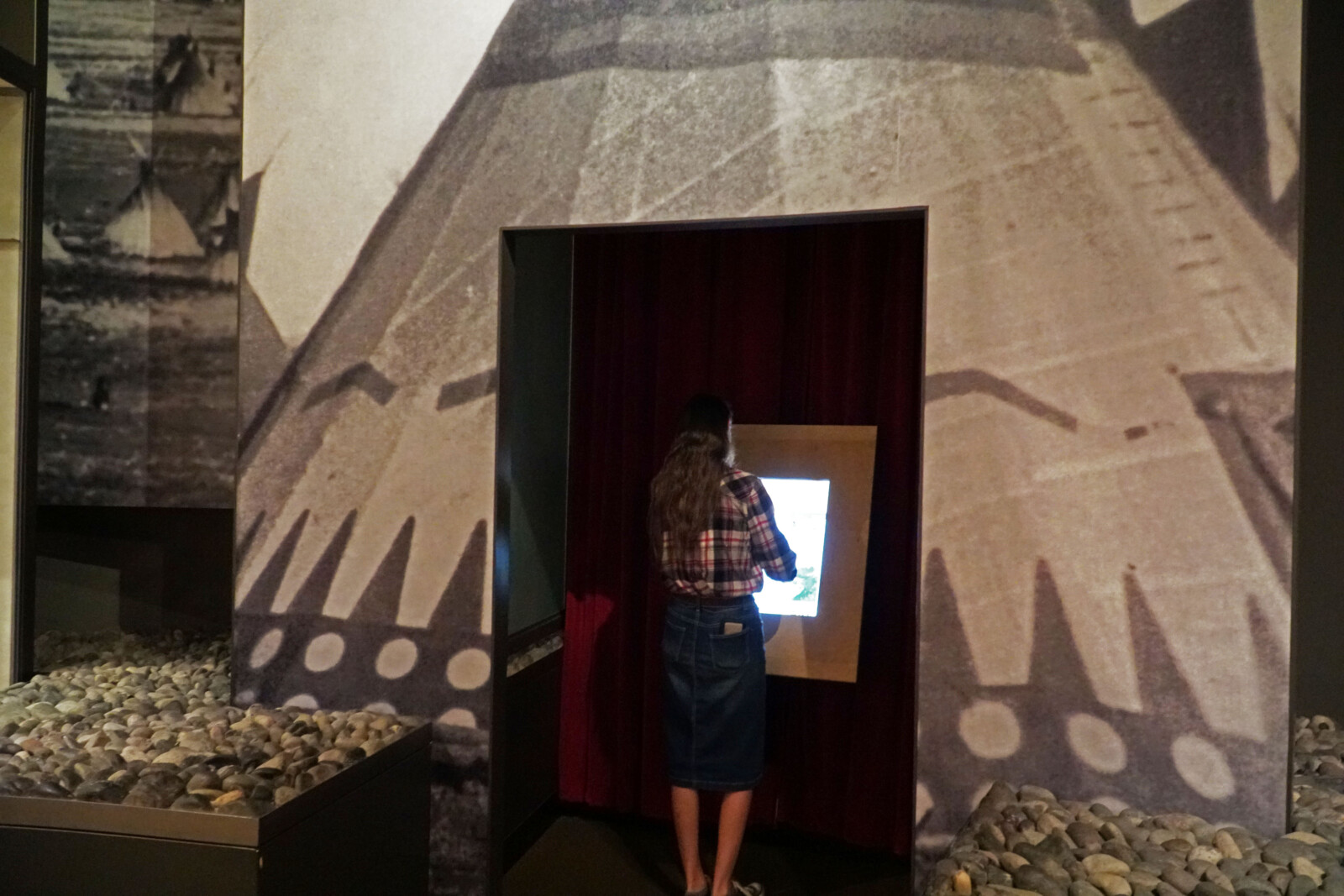 Adversity and Renewal
The struggles that came with adapting Indigenous culture to modern-day life is explored throughout this exhibit. Some topics include urbanization, sovereignty, reservation life, economic policy, tribal government, and water rights. Therefore, adapting to a new way of living and maintaining their spiritual significance required Indigenous people to alter their spiritual practices and how they passed on their traditions. It also discusses how contemporary issues such as language, boarding schools, and education affected tribal identity.
Buffalo and the People
This interactive exhibit teaches you how Plains Indian culture saw buffalo as the sustenance of life. In other words, they used every part of the buffalo to sustain themselves, celebrated them for the resources they provided, and attached a great deal of significance to buffalo in their art. In light of the buffalo decline, their conservation efforts were also explained by their decision to move camps consistently. Buffalo were so essential to their livelihood that they were willing to make great efforts to ensure that buffalo populations remained healthy.
Honor and Celebration
Become familiar with the milestones achieved by children, youth, adults, and elders as they fulfill different roles in their communities and the continuity of their heritage. For instance, playing games that allow children to adopt their cultural heritage, observing the significance of their names as they grow into adulthood, and understanding the importance of Powwows are all part of what you'll learn. Examine the differences between boys and girls as they age, and the various paths one can take when transitioning from an adult to an elder.
Land of Many Gifts
Compare tribal communities' ways of life during the four seasons, including the different kinds of celebrations, how hunting and gathering changed, and the responsibilities men and women took on at different times of the year. Detailed information showcases the slow winter days, the preparations that took place, and the types of games, toys, and stories that were shared. As children got older, each season helped them develop skills and knowledge that they would need in their daily lives.
Whitney Western Art Museum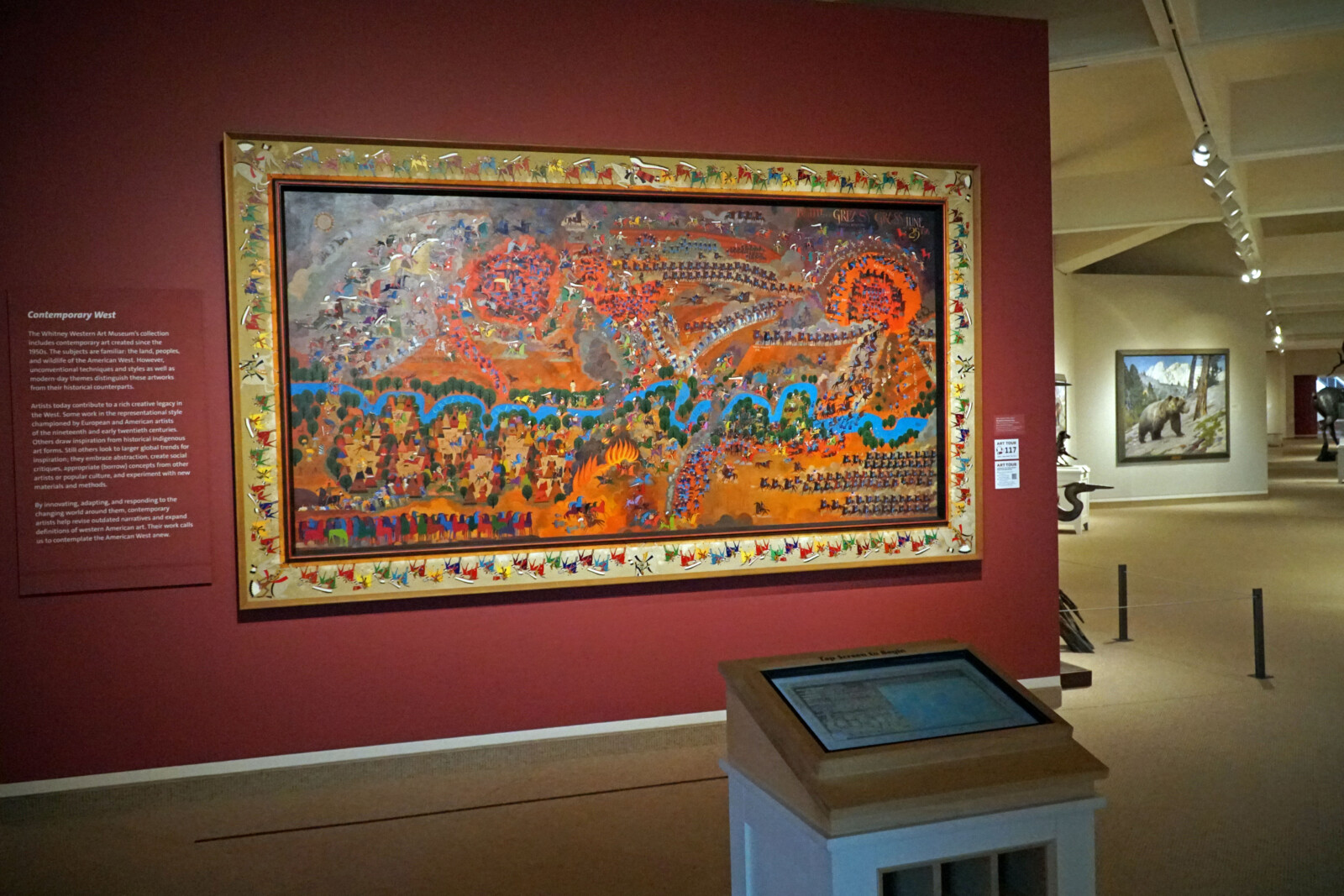 The Studio of Frederic Remington
A physical recreation of Frederic Remington's studio offers the opportunity to learn about some key features of his studio. This highlights objects like authentic western artifacts, military items, paintings, and native-made items. Every component of his studio served a purpose, whether it was an inspiration, a memory, an expression, or anything that referenced the American West. Also, due to the desire for accuracy, his work was based on careful observation of western life from first-hand experiences.
Battle of Greasy Grass [Painting]
You can click on various components of this interactive based on the painting by Allan Mardon to gain a deeper understanding of what happened at the Battle of Greasy Grass. The Native American perspective makes this painting especially unique as you'll find answers to common questions, descriptions of the locations, and information about what's happening in each area. Sitting Bull, an important Hunkpapa tribe spiritual leader, is depicted various times as he journeyed to four locations in the 24-hour period of this battle on June 25th of 1876.
Custer's Last Stand [Painting]
Edgar S. Parson's depiction of Custer's Last Stand describes key figures during the Battle of Little bighorn, what it would've been like on the battlefield, and some of the problems with weapons they faced. It sheds light on late 19th century views and details in the painting that may go unnoticed.
Cody Firearms Museum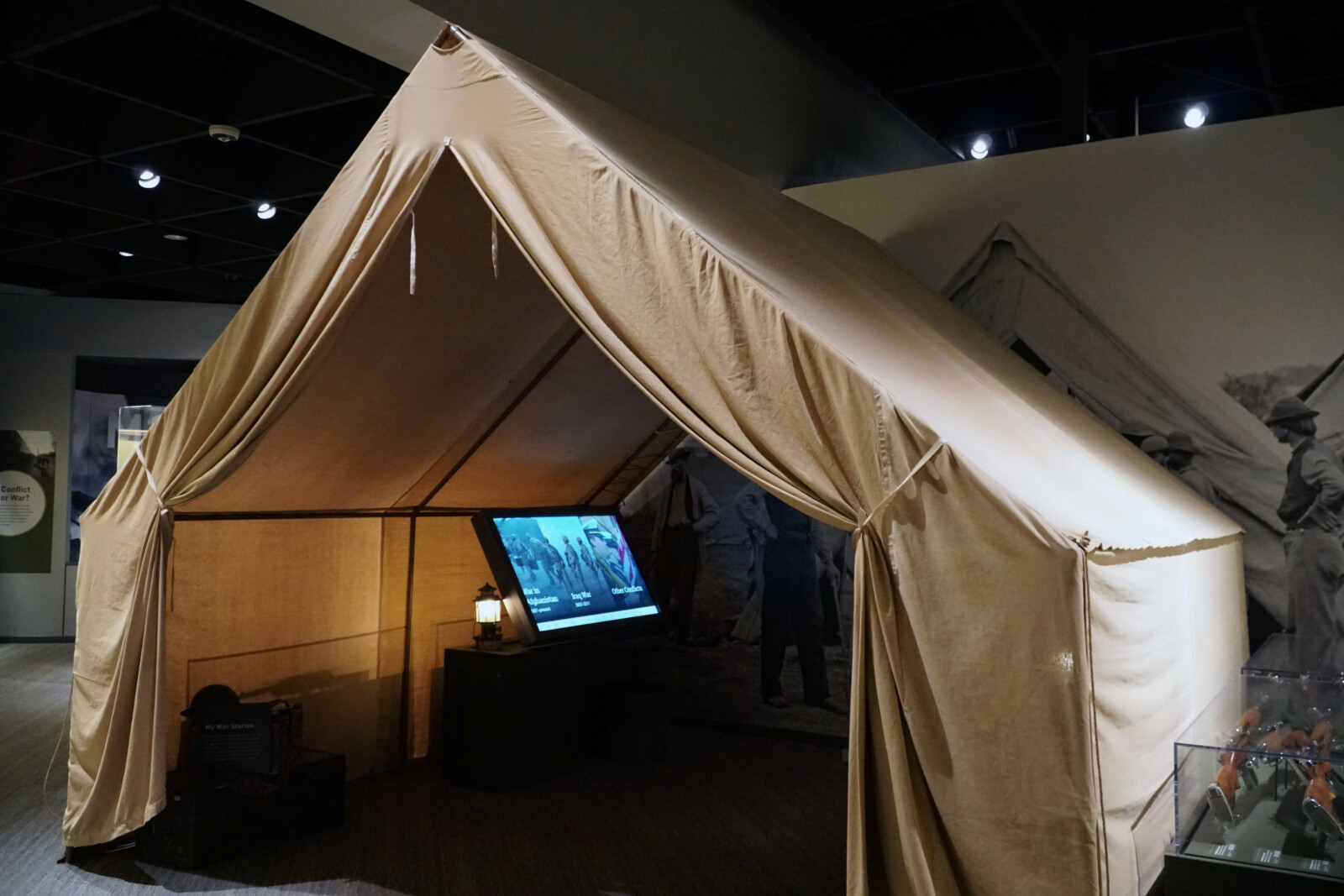 Guns of the West
With this collection of western rifles and revolvers, you'll get an in-depth analysis of their designs, models, and manufacturers. Learn about the gun mechanics in a visual, interactive tutorial. Additionally, Explore the advertising and distribution of these guns on the domestic and international fronts. Their owners will also be revealed, whether they be hunters, outlaws, military personnel, or competitive shooters.
War Stories
Are you a history buff? Well, if so, you can get both real-life and museum-curated perspectives from military veterans. These experiences stretch back to the 1500s when the Europeans began to expand into North America, through the American revolution, the Civil War, World Wars I and II, and up through the Iraq war in 2003. You will gain an understanding of the different types of firearms used during each war and how they impacted combat.
Buffalo Bill Museum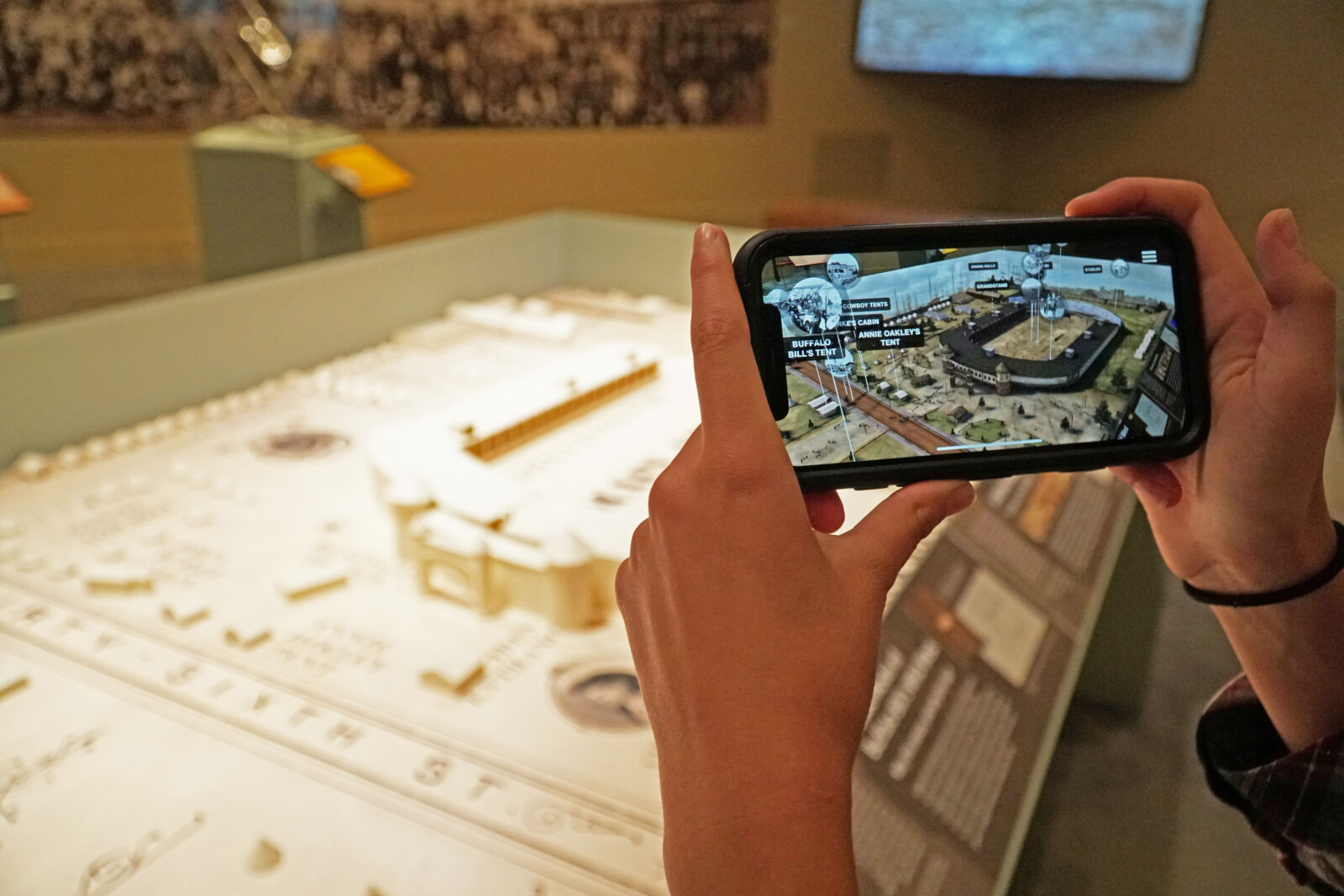 Buffalo Bill's Wild West AR Exhibit
You can explore Ambrose Park, the setting of Buffalo's Wild West, in full detail with this augmented reality experience. By picking up a tablet or phone, the park's model comes to life, exposing what it would have looked like in the early 1900s. The park's environment changes as you move around the exhibit, allowing you to click on different elements for more information. The Institute for Digital Intermedia Arts developed this interactive exhibit.
McCracken Research Library
Gallery of Gunfighters
Among a gallery of famous gunfighters like Butch Cassidy, Jesse James, and Billy the Kid, you can learn more about their life stories by clicking on each of their pictures. As a result, this display provides personalized audio narratives for each of these outlaws of the Wild West, taking on their persona to create a more authentic experience.
McCracken Archives
Take a deep dive into more than 300 archival collections that reflect all 5 museums' subject matters. The library has an emphasis on the William F. Cody archives and has in-depth analysis of his life. The collection contains photographs, diaries, scrapbooks, ledgers, and original recordings that have been converted to be digitally accessed. These archives make it much easier to understand everyday concerns, business practices, craftsmanship, firearm distribution, and general way of life. Browse the library's digital collection at library.centerofthewest.org to get started. In-person research is by appointment and can be scheduled by contacting [email protected] or 307-578-4136.
Writer's Hall of Fame
American western literature stretches far and wide as this exhibit highlights some of the best western writers. Learn more about famous figures like Judy Alter, Clint Eastwood, and Edward Paul Abbey. Likewise, there are subjects like traditional western fiction, historical analysis, romance stories, screenwriting, poetry, and songs. Not to mention, you can receive a biography for each author and access to their featured works by clicking on their names.
(Disclaimer: exhibits are subject to change; these exhibits are up to date as of July 27, 2022)