Draper Museum Raptor Experience
Suli: Turkey Vulture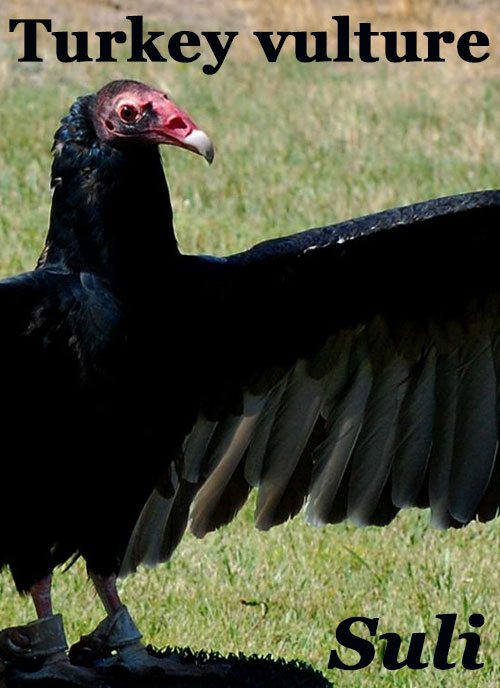 About the Bird:
Suli is believed to be a female Turkey Vulture who hatched in early June of 2011. She was found near Junction City, Kansas, after being orphaned as a chick. She was raised by the staff at the nearby nature center, but as a result, never learned that she was a vulture and is therefore unable to survive on her own.
General Species Info:
Turkey Vultures are the most widespread of all the New World Vultures. They range across most of the Americas from southern Canada, through most of the continental United States, into Mexico, Central America, and most of South America. Northern populations of Turkey Vultures are migratory and travel south to spend winters in Mexico, Central America, and coastal regions of the United States.
Look for Turkey Vultures as they soar over open areas including mixed farmland, forest, and rangeland. They also can be seen often along roadsides. At night, they roost in trees, on rocks, and other high secluded spots.
Turkey Vultures are strictly scavengers and eat carrion, which they find largely by their excellent sense of smell. They will eat most anything, ranging from mammals, reptiles, other birds, amphibians, fish, and even invertebrates. They prefer freshly dead animals, but often need to wait for their meal to soften in order to pierce the skin, targeting the softest bits first. Vultures have excellent immune systems, readily feasting on carcasses without contracting a wide variety of diseases.
Notes from Staff:
Suli is the clown of our flock and is naturally inquisitive. She loves to find her food hidden in various locations in her enclosure. One of her favorite forms of enrichment is poking her head into a log stuffed with crumpled papers and tidbits of meat to find.
Sign up for our Adopt-a-Raptor program