Originally featured in Points West in Winter 2011
Teasdale the great horned owl
One of the exciting—as well as one of the most popular—programs at the Buffalo Bill Center of the West is the Draper Museum Raptor Experience. First envisioned in 1998, when Founding Curator Dr. Charles R. Preston came on board to lead the natural history museum's design and development, the program finally "took flight" in 2011, thanks to generous support from the William H. Donner Foundation and Donner Canadian Foundation in memory of Robert Donner Jr. and Bobby Donner III.
The program is in the very capable hands of a "master raptor wrangler" and wonderful educator Melissa Hill, the Draper's Assistant Curator for the Raptor Program, and recent addition Brandon Lewis as her assistant. We've constructed a raptor shelter, known as a mews, and acquired six non-releasable birds under the necessary federal and state permits.
This is Teasdale, a male great horned owl—one of our new living treasures. He, along with his feathered companions of the Raptor Experience, enthralls and helps us educate visitors and area students about raptors and ecological principles in western environments.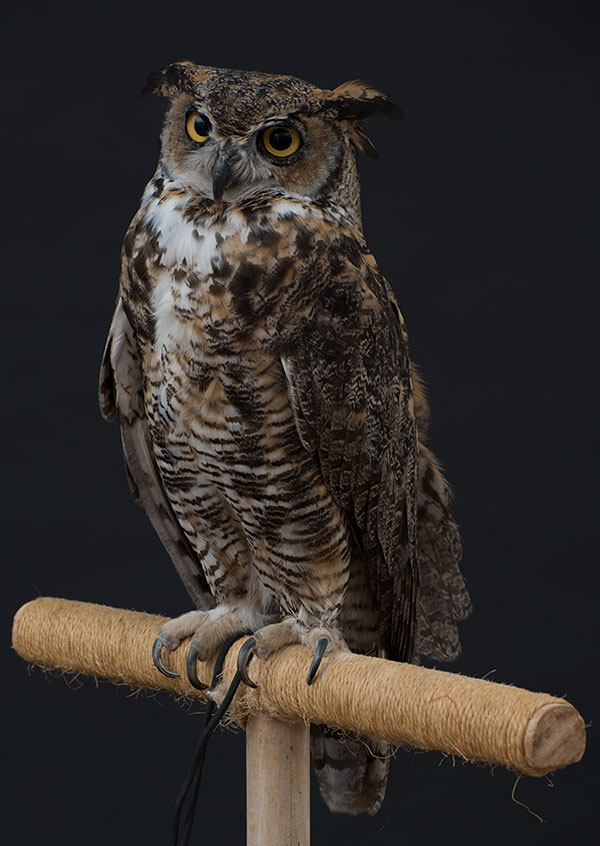 Find out more at our Draper Museum Raptor Experience page and the program's blog.
Great horned owl Teasdale. Draper Museum Raptor Experience.
Post 043