Hello again! Welcome to week two of birds are dinosaurs! This week we are going to talk about some of the somewhat misleading terms that are used to define and describe dinosaurs and birds, as well as who is related to who (or not)!
If you remember from last week, I talked about how dinosaurs are classified into two major groups: Ornithischian and Saurischian. Now, Ornithischian means 'bird-hipped' and Saurischian means 'lizard-hipped;' however, the lineage of birds is actually in the 'lizard-hipped' group! Which is not very helpful in identifying avian-related dinosaurs… So what do they mean?
Bird-hipped (Ornithischian) dinosaurs have a "4 pronged" hip with the pubis parallel to the ischium (pointing backwards towards the tail), which ironically resembles that of modern birds (this means that this type of hip structure evolved at least twice, once with these dinosaurs and again with the bird lineage). Many of these dinosaurs were quadrupeds, but some, like the Iguanodons, walked mostly on two legs.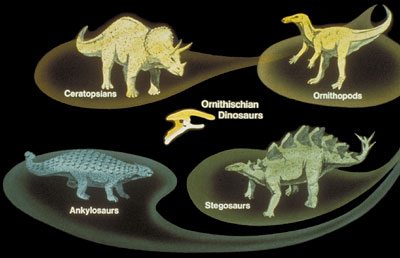 The lizard-hipped (Saurischian) dinosaurs had a "3 pronged" hip structure with the pubis pointing forwards, again resembling modern lizards. Oddly enough, this group includes both the largest land dinosaurs (Sauropods) and also the two-legged theropod carnivores like T. rex!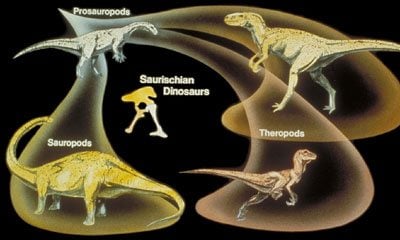 So just to clarify, although modern birds are more closely related to "lizard hipped", their hip structure resembles the "bird hipped" dinosaurs – confusing, I know.
Alright, so now that everything is as clear as mud as far as naming is concerned, we will move on to relatives and ancestors of birds, and how birds are dinosaurs! The naming and classification of, and relationships among, dinosaurs has seen a lot of upheaval and change since we started naming them. Part of this is because we find new dinosaurs all the time, and it is also partly because, as we continually do more research with new technology on the specimens we have, we make new discoveries! So the who is related to who is different now than it was 20, 10, or even 5 years ago. In an article published in December 2014, Archaeopteryx (who for a long time was considered THE first of the dinosaur-bird transitions) was pushed out of the spotlight for a while upon the discovery of Aurornis Aurornis versus Archaeopteryx; new discoveries show just how diverse the lineage of birds and bird-like dinosaurs really is!
Here is the full article if you are interested! http://www.nature.com/news/rival-species-recast-significance-of-first-bird-1.16469
To make it even more confusing, different researchers examine different pieces of evidence and depending on their methods, come up with different relationship diagrams (phylogenetic trees or cladograms). There is often so much data of differing types that it can be difficult to combine it all, so that is one reason why researchers may choose different data sets!
Finally, it is important to realize that there is no super clear distinction between birds and theropod dinosaurs. It's more of a slow accumulation of bird-like features through time, including a wishbone, fusion of bones in the arms/hands, increase of relative breastbone size, increase in complexity of feather structure, and decrease of overall body size. Here's a really cool article about that decreasing body size: http://blogs.scientificamerican.com/tetrapod-zoology/50-million-years-of-incredible-shrinking-theropod-dinosaurs/
Therefore, I will tell you about the current majority-agreed upon relationships! Most researchers agree that theropods, the bipedal, mostly carnivorous, group that includes the T. rex and raptors is where birds evolved. Specifically, a group under the theropods called maniraptorans had more bird-like characteristics (including a breastbone), and this is the lineage that became birds. So birds really are living dinosaurs!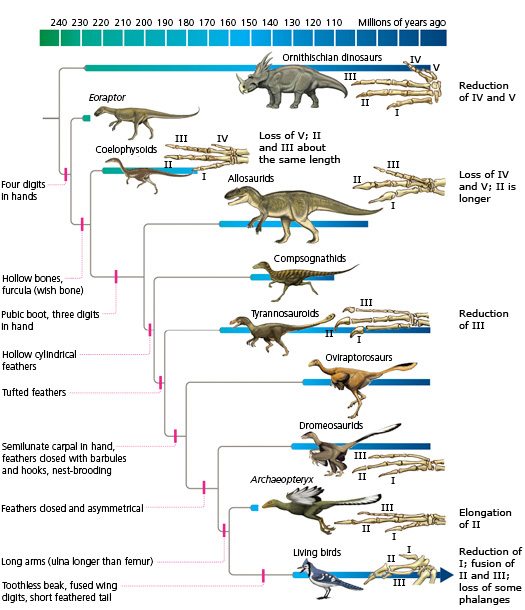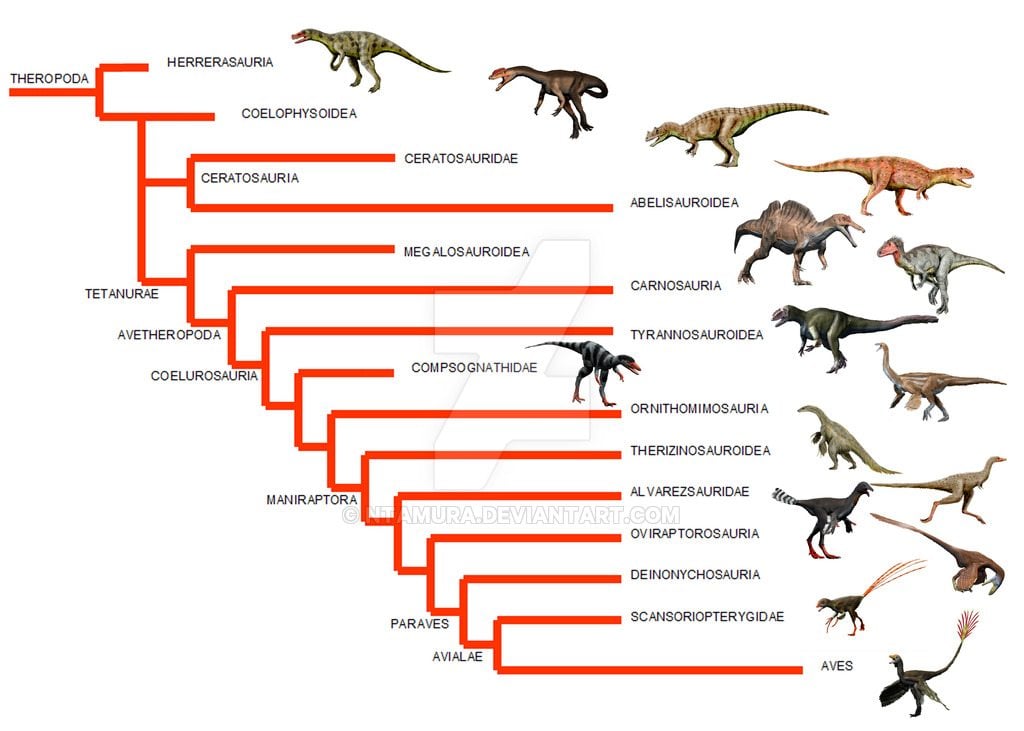 A quick side note about the other incredible flying reptiles that lived alongside the dinosaurs: the pterosaurs! These amazing creatures ranged in size from a wingspan of about 10 inches (about the size of an American Robin) to a wingspan of over 33 feet (you know, the length of a bus, no big deal). These, like the dinosaurs, were descended from archosaurs (remember from the first blog: the ancestors of all reptiles, including dinos, birds, and crocs), but Pterosaurs were not flying dinosaurs; in fact, they were not very closely related to dinosaurs at all!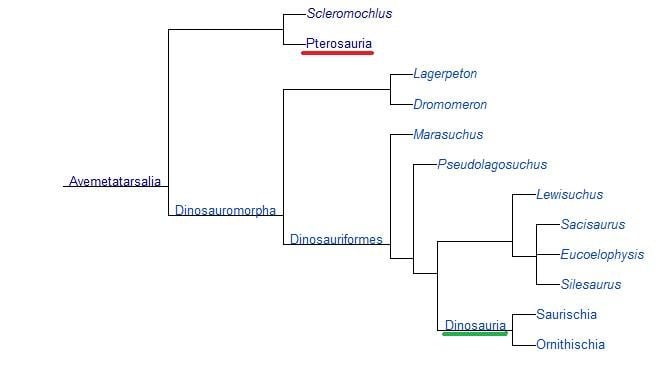 These awesome creatures came about in the late Triassic (the first age of dinosaurs), about 60 million years before dinosaurs began developing those bird-like characteristics, and were around up until the very end of the Cretaceous.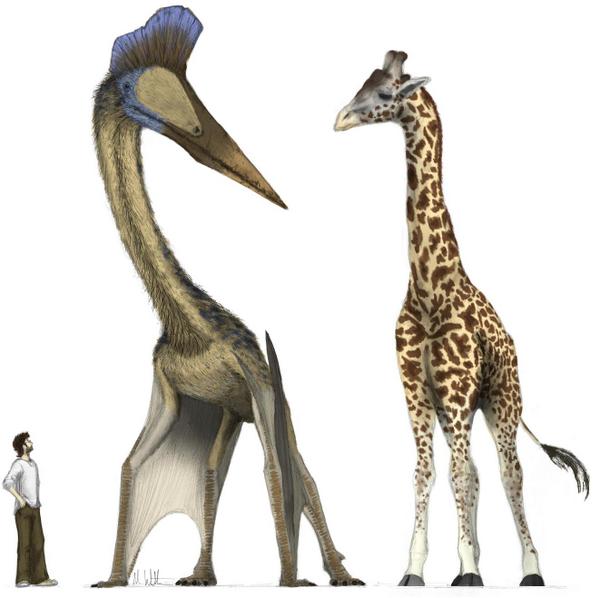 I know this was a fairly confusing blog (it confused me too in some spots), but I hope you learned something new and enjoyed it nonetheless! If you have any questions, leave us a comment and we'll do our best to answer! Finally, check out our last blog about birds and dinosaurs next week, all about shared characteristics!