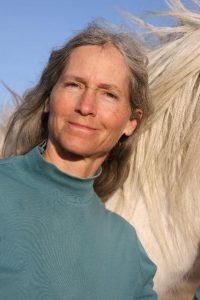 The Whitney staff recently had the chance to visit Linda Raynolds at her studio. She introduced us to the tools she uses to create her sculptures and showed us her extensive collection of art and source material. We also learned more about what inspires her.
Animals have consumed Raynolds's interest for as long as she can remember. Drawing, painting, and sculpting them is a natural expression of this fascination. Raynolds considers drawing to be a foundational practice in the creation of her sculptures. When drawing animals, she studies their anatomy and movement, familiarizing herself with animals' expressions, gestures, and behaviors which inform her imagery.
Raynolds has always been interested in sculpture and began working in three-dimensions in high school. She has worked in various media throughout her career – including marble, alabaster, plaster, and bronze. When working with marble and alabaster, Raynolds wields a variety of tools to chip, scrape, and carve her compositions from solid pieces of rock. It is a physically-demanding practice. At present, Raynolds is enjoying working in plaster, often using the material to express her artistic vision through relief sculptures. When it comes to creating bronze sculptures, Raynolds plays an integral role in the casting process and application of patina at the foundry.
Filled with her sculptural creations, Raynolds's studio houses works in various stages of completion. She usually has no less than three works-in-progress, so she always has something to work on when inspiration strikes. Organized into sections, the studio is a showroom of beautifully sculpted works in plaster, marble, and alabaster. Many are depictions of animals, distilled to elegant, simplified forms.