Originally published in Points West magazine
Fall/Winter 2018
The Irma Hotel Cherrywood Bar: In La Scala Opera?
By Walter Rudolph
Metropolitan Opera Live in HD (also known as The Met: Live in HD) is a series of live opera performances transmitted in high-definition video via satellite from the Metropolitan Opera in New York City to select venues—primarily movie theaters—in the United States and other parts of the world. Mr. and Mrs. Walter Rudolph had occasion to view one such production, an event that becomes just the first of a series of quintessentially 'serendipitous' moments for Rudolph.
On May 13, 2018, my wife, Marilyn, and I attended the Metropolitan Opera HD Movie Theatre transmission of Der Rosenkavalier ("The Rose Bearer") by Richard Strauss—the upshot of which will become apparent shortly.
The following Tuesday I was researching for operatic connections in Utah for an upcoming lecture. One link I encountered was titled The Opera Critic Reviews: Teatro alla Scala [a Milan, Italy, opera house] / La Fanciulla del West ("Girl of the Golden West"), an opera by Giacomo Puccini. I knew it had no connection to my work and was ready to move on when that 'prompt' appeared telling me to click on it anyway. A quick scan revealed the following: "in Buffalo Bill's Irma Hotel at Cody…and a sunburned view of Monument Valley."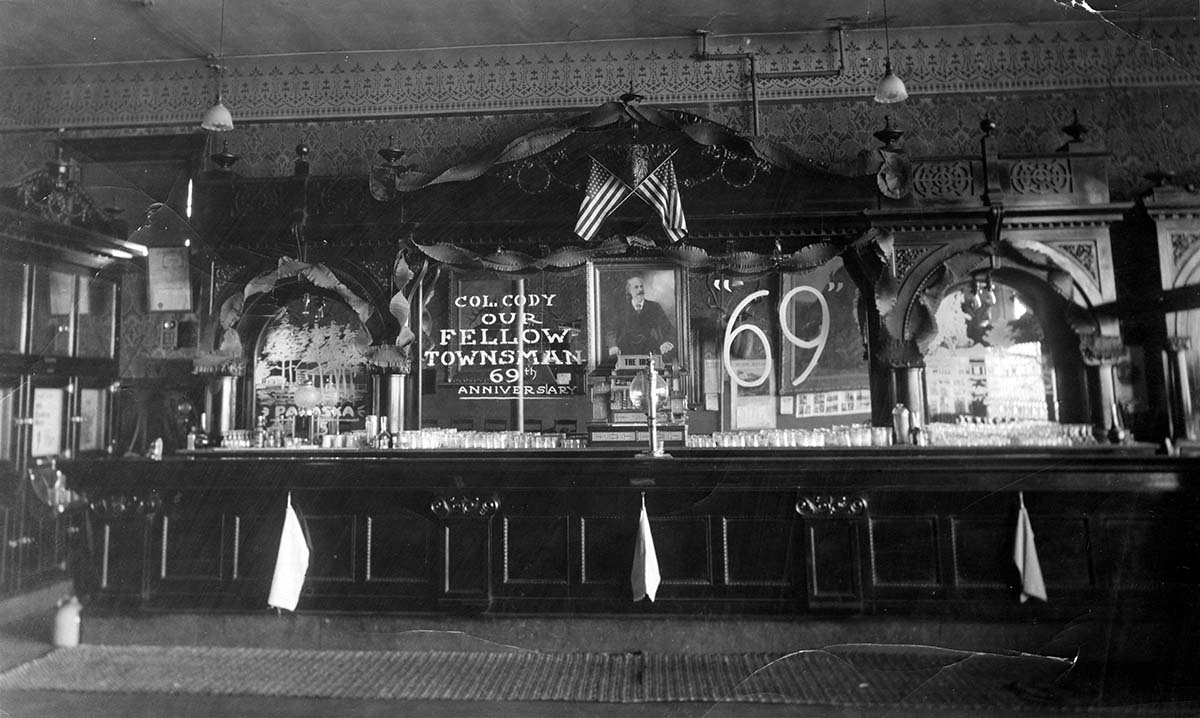 "How could this be?" I wondered. Fanciulla takes place in a mining camp at the foot of the Cloudy Mountains in 1849–1850 California. I was intrigued and wrote Michael Sinclair of New Zealand, the editor of the website who had selected the review. Sinclair put me in touch with the production's Director and Co-Designer, Robert Carsen, who just happened to be the Director of the Met's Rosenkavalier we had just seen! Within hours, I read Carsen's initial reply, which began:
Walter B. Rudolph is absolutely correct: I based the Act One bar design, which I did myself, on Cody's bar in the Irma Hotel, which I visited years ago when I was preparing to write and direct Buffalo Bill's Wild West Show for the opening of Euro Disney in Paris.
In the meantime, I had found a trailer for this production on YouTube. Ten seconds into this video, I stopped: There was a full stage representation of the cherrywood bar found in the Irma Grill!
In additional correspondence with Carsen, I learned more of his ideas for this production. He noted:
Our entire production was a homage to the genre of western cinema and explores different styles of films. The score of La Fanciulla del West is like a film score—before western film scores were invented! Our production starts with some men in a cinema watching the end of a western, My Darling Clementine.
When the film ends, moviegoers are still "in" the movie, and in a fantasy; they turn the cinema into a bar by moving the seats and bringing in some tables. The front of the cinema screen comes forward to create a version of the famous bar at the Irma. Then, when the Girl herself appears, the bar disappears, and we are in the middle of a cinemascope film with a wrap-around view of Monument Valley in Utah.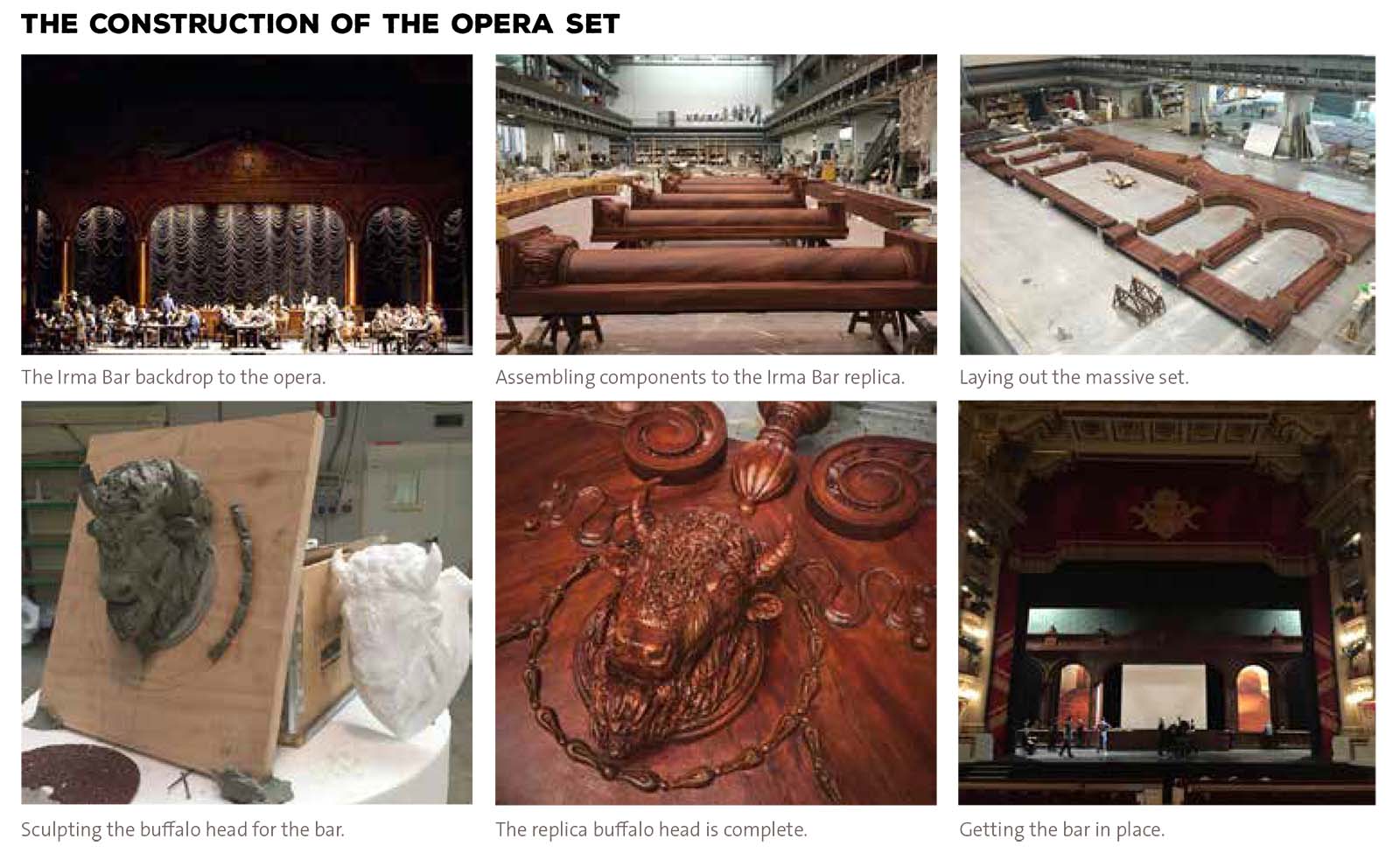 Carsen described the Second Act as influenced by the Lillian Gish black and white film, The Wind. The third act included "live" cinema with the singers projected, again in black and white, on the screen. At the end, the miners bid the Girl goodbye as she leaves with her movie star boyfriend for California, and then the miners return for another watch of the movie they've just been viewing.
I was elated to have had such a serendipitous experience. Carsen, who hails from Toronto, Canada, is one of today's most successful opera directors. His productions are in virtually every major opera house in the world. But this Fanciulla had yet another connection for me.
In 1976, I was a member of the chorus at Lyric Opera of Chicago. The production was Rigoletto by Giuseppe Verdi, and the conductor—making his American debut at age 23—was Riccardo Chailly who is now the Principal Conductor of Teatro alla Scala in Milan, one of the three or four most prestigious opera companies in the world. And yes, it was Chailly who conducted this new production of Fanciulla!
Odd as it may seem, though, my own love of opera all began in Cody. I owe so much to people like Frank Lanaghen, Helen Ogston, and Paul Hanselmann. I am also indebted to those who have seen to the continuance of the local Community Concert series, which enabled me to attend recitals by some of the finest vocalists—including Maureen Forrester, Igor Gorin, Jon Crain, and Edwin Steffe—and many equally great instrumentalists.
There's still more to this little tale, however. In the July 1981 issue of National Geographic (page 81), there is an article about William F. "Buffalo Bill" Cody. A photo caption mentions that "[Buffalo Bill] even convinced Milan's La Scala Opera to perform in the little prairie town [North Platte, Nebraska]." Serendipitous, indeed!
In all, Carsen shared a dozen photographs of his Fanciulla production. Obviously, he has great love for the American West and especially for Cody and Buffalo Bill.
---
About the author
Walter B. Rudolph, the oldest son of Walter A. and Delora B. Rudolph, graduated from Cody High School in 1964. He was general manager of Classical 89, KBYU-FM radio for thirty-three years, where he was deeply involved in classical music. Today, he lectures regularly on opera, is a past-president of the Jussi Björling Society-USA, and loves traveling to Cody to visit his brother, sculptor Jeff Rudolph.
---
Post 246