The mysterious disappearance of Malaysia Airlines Flight 370 on March 8 while en route from Kuala Lumpur to Beijing has captivated the world's attention. It's also triggered a spate of news stories about other aviation mysteries—foremost among them being the fate of Amelia Earhart, whose Lockheed Electra disappeared somewhere over the Pacific Ocean in 1937 while trying to fly around the world. No one knows for sure what happened to Earhart and her co-pilot, Frank Noonan. People have been offering up theories and searching for their remains ever since.
We can't shed light on Earhart's fate. We do know one thing for sure, however—the whereabouts of Earhart's flight jacket. It's right here, in the collections of the Buffalo Bill Center of the West.
How in the world did it ever wind up here? Therein hangs a tale.
Born in Kansas in 1897, Earhart made her first plane ride in 1920, took flying lessons, and purchased her first airplane, a Kinner Airster biplane, the following year. In 1922, she flew it to 14,000 feet, setting a record for the highest altitude then flown by a female pilot. Six years later, Earhart made history by becoming the first woman to fly successfully across the Atlantic Ocean—in this instance, as part of a crew that included two male co-pilots. In 1932, five years after Charles Lindbergh did so, Earhart again made aviation history, becoming the first woman, and only the second person, to complete a solo trans-Atlantic crossing—a feat for which Congress awarded her the Distinguished Flying Cross.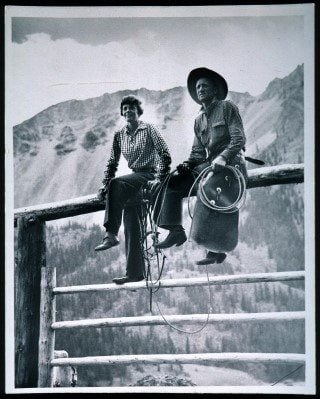 A year before making that historic trip, Earhart had married George Putnam, a businessman, book publisher and explorer who had been one of the investors in her 1928 flight. An avid outdoorsman, Putnam had gone backcountry camping in Yellowstone National Park in 1921, guided by Carl Dunrud. Putnam and Dunrud became friends, and, in 1934, Putnam brought Earhart to Dunrud's "Double Dee Ranch," near Meeteetse, Wyoming. They spent two weeks there, fly-fishing, horseback-riding, and relaxing. Earhart was smitten by her time in the Cowboy State. She decided that she and her husband would retire there, and they commissioned Dunrud to build them a log cabin.
Dunrud and his crew began constructing the cabin in the fall of 1936, about the same time that Earhart was finalizing arrangements to fly around the world. Early the following year, Earhart began sending treasured possessions to Dunrud, including a flight jacket that she had worn on at least one of her trans-Atlantic flights, and possibly on both.
And then she was lost.
On July 3, 1937, when George Putnam received word that his wife's plane had disappeared, he was having lunch with one of his closest friends, Harold McCracken, a fellow explorer and author. Thirty years later, McCracken was Director of the Buffalo Bill Historical Center (now Buffalo Bill Center of the West) when Carl Dunrud stopped by to show him something. It was Earhart's flight jacket, which he wished to donate to the Center. "I immediately recognized [it] when you brought it into our Museum," McCracken wrote Dunrud. "It is extremely fortunate for us that she left it with you, when you were building the log cabin for her, shortly before [her] fateful flight."
How fortunate we are, too, that the famed aviator's cherished flight jacket is preserved for posterity.