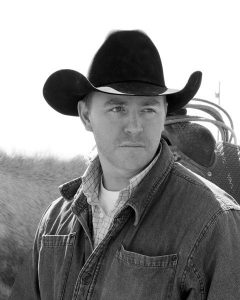 A third-generation sculptor, Dustin Payne learned his craft at an early age. He enjoyed reading art and history books in his father's studio and was influenced by artists who came before him, including Will James.
Payne is proud to be related to the Texas Cattle King, Charles Goodnight, and feels fortunate to have always been surrounded by ranching culture. He adds a bit of this heritage in every work of art he sculpts. Today, Payne is best known for his portrayals of western American history in bronze. His subjects range from wildlife and Native Americans to cowboys and the Calvary.
You can find Payne's life-size monument honoring the history of the Texas Rangers, "The Legend, The Lore, The Law," in Fredericksburg, Texas. He is currently working on a life-size monument to Charles Goodnight and Oliver Loving for Pueblo, Colorado. Dustin is represented by galleries across the country, and annually participates in arts events including the Buffalo Bill Art Show & Sale!
Dustin Payne shared the depths of his inspiration as he provided a visual arts presentation at our 2017 symposium, Forged & Founded: Western American Sculpture.
Visit Dustin Payne's website for more information on his artwork, news, publications, and more!