Cody Firearms Museum Media
Ashley Hlebinsky, Robert W. Woodruff Curator of our Cody Firearms Museum, and Danny Michael, Assistant Curator, share their knowledge about firearms, the Firearms Museum's collection, and the history of firearms. Here, find links to media such as videos and blogs they have done.
All about firearms with Assistant Curator Danny Michael
Danny shares his knowledge about specific firearms and types of firearms from our vast collection, the history of firearms and their manufacture, and so much more. Join him in the amazing galleries of the brand new Cody Firearms Museum as well as behind the scenes in the vaults. He posts or goes live on the firearms museum Facebook page.
---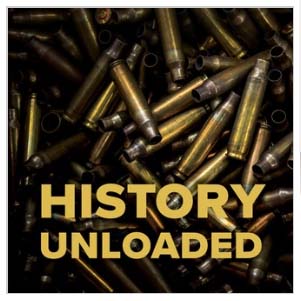 History Unloaded podcast
This podcast is co-hosted by Danny and Ashley. History Unloaded is all about firearms history, artifacts, lawsuits, a little drama, and the Cody Firearms Museum.
---
Gun Talk Radio
Gun Talk Radio (and video) gave quite a bit of air time to the highly anticipated redesign and reopening of the Cody Firearms Museum in 2019. Click here to see that coverage.
---
Ashley won 2017 Grits Gresham Shooting Sports Communicator Award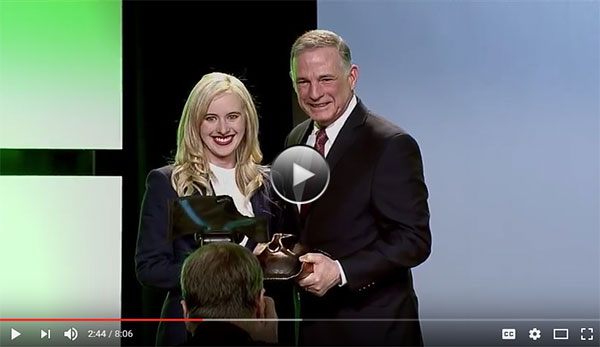 This prestigious honor recognizes extraordinary achievements in communications in the areas of responsible firearms use, the shooting sports, and hunting. Ashley received the award at the SHOT Show® (Shooting, Hunting, and Outdoor Trade Show) State of the Industry Dinner in Las Vegas. See the ceremony in the video at right. And click here for the news release about Ashley winning the award.
---
First Lady of Guns: Q&A with Ashley Hlebinsky — Outdoor Life interview by John B. Snow
Ashley Hlebinsky, a Pittsburgh native, has brought her energy and love of firearms to Wyoming as the first female curator at the Cody Firearms Museum. Click here to read.
Third Century: Ashley Hlebinsky — America's First Freedom article
Ashley Hlebinsky isn't your average "gun girl." Click here to read.
---
From the Gun Vault Video Series
National Shooting Sports Foundation
Click the "Gun Vault #" links to view.
The Gun Vault #13: Colt Model 1861 Navy Serial No. 1
First posted November 9, 2016: Ashley shares an impressive Civil War-era Colt Model 1861 Navy serial number 1 revolver with the original holster and traceable to its original owner.
The Gun Vault #12: Buffalo Bill Cody's Winchester 1873
First posted October 13, 2016: Ashley gives us special look at the Winchester 1873 lever action used by William Frederick "Buffalo Bill" Cody in his traveling show Buffalo Bill's Wild West.
The Gun Vault #11: Tom Knapp's First Gun
First posted September 30, 2016: Ashley highlights a collection of world record setting firearms used by champion shooter Tom Knapp including the firearm he used to set his first world record, the Benelli M1 Super 90. Hlebinsky also shows us Knapp's first gun, a Daisy N0. 25 Air rifle given to him as a child.
The Gun Vault #10: Henry Ford's Winchester 1887 Lever-action Shotgun
First posted September 9, 2016: The history behind a unique Winchester 1887 lever-action shotgun belonging to automobile manufacturing tycoon Henry Ford.
The Gun Vault #9: Pocket Pistols: Derringers and "Deringers"
First posted July 27, 2016: A rare and unique "Deringer" pocket pistol and shares some history around the once popular derringer pistols.
The Gun Vault #8: 4 Gauge Winchester
First posted June 24, 2016: A monstrous 4 gauge Winchester Wildfowler shotgun weighing in at a whopping 19 pounds.
The Gun Vault #7: Audie Murphy's Colt Bisley
First posted May 12, 2016: Some history surrounding a Colt Bisley revolver once owned by one of the most decorated American combat soldiers of World War II, Audie Murphy.
The Gun Vault #6: Herb Parsons Winchester Model 71 from "Winchester '73"
First posted April 21, 2016: The history behind a Winchester Model 71 used by Herb, a.k.a. the "Wizard with a Winchester" to make Hollywood movie magic alongside iconic movie star Jimmy Stewart in the 1950 Universal International film Winchester '73.
The Gun Vault #5: Cross Dominance Shotgun
First posted March 10, 2016: A unique Collath shotgun that was custom fit more than 100 years ago to a shooter suffering from crossed-eye dominance.
The Gun Vault #4: U.S. Presidents' Guns
First posted February 19, 2016: Some of the Presidential firearms displayed in the museum's embellished gallery. She highlights firearms presented to President's Lyndon Johnson, Dwight D. Eisenhower, Ronald Reagan, and John F. Kennedy.
The Gun Vault #3: 500+ Year Old Firearm, Matchlocks, Flintlocks, and More
First posted January 5, 2016: The oldest firearm on display at the museum—a more than 500 year-old repeating hand cannon. Also, on display are classic examples of some of the earliest ignition systems developed, such as the matchlock, wheel-lock, flintlock and a percussion pistol.
The Gun Vault #2: Col. Jeff Cooper's Colt MK IV Series 80
First posted October 29, 2015: A collection of firearms that represents modern day design through improvements and refinements dating from the late 1890s up to today. Included in this display is a Colt 1911 MK IV Series 80 Government Model customized by D & L Sports and presented to Col. Jeff Cooper.
The Gun Vault #1: Winchester 1873 Found in Great Basin National Park
First posted October 16, 2015: The "Great Basin Gun"—a Winchester Model 1873 found leaning mysteriously against a tree in the Great Basin National Park, and preserving the severely weathered firearm in its current state for display at its permanent home the Great Basin National Park.
---
From the 2016 SHOT Show
Las Vegas, Nevada
Interview with Ashley Hlebinsky
Video: 1873 The "Forgotten Winchester" from Great Basin National Park
Video: Winchester Canada Model 101; 1866 Yellow Boy; Kennedy Model 70; and Eisenhower Model 1894
Video: John Olin M1 Carbine; Model 1897
Video: Winchester Zane Grey 1895 Takedown; Model 21 Ernest Hemingway
Video: Buffalo Bill's Winchester Model 1873
Video: 5 Things You Might Not Know About Winchester (Outdoor Life)
Video: 5 Things You Might Not Know About GLOCK (Outdoor Life)
Video: Ashley on the Cody Firearms Museum
---
Guns of the Week Blog
Outdoor Life Magazine Online
Video: John Martz Luger
Most of the time, finishing a firearm detracts from its original historic value. But a few experts have actually improved models after working on them.
Video: Apache Revolver
A curious firearm that incorporates brass knuckles, a foldable dagger, and a pepperbox all in the same model. (1988.8.2819)
Video: German Frei Pistol
A 50-meter competition pistol from Germany
Post: The 28 Most Notable Guns from Remington's 200-year History
Celebrating 200 years of an iconic American company.
Video: King Louis XV Blunderbuss
This embellished blunderbuss was a gift from Catherine the Great of Russia to King Louis XV of France. (Smithsonian loan)
Video: Armalite AR-17 Shotgun
Although the name AR-17 might call to mind a black gun, this 1960s-shotgun is a different breed than the AR-15s and AR-10s.
Post: 13 of the Biggest Gun Fails in Recent Firearm History
A lot of weird guns have been made throughout the ages. Some were the product of innovative thinking that didn't exactly pan out.
Post: Getting the Christmas Goose with a Goose Rifle and Cutaway Suppressor
Check out this unique goose hunting rifle—a Winchester Model 1903 Semi-Automatic Rifle in .22 caliber that has been modified. (1996.15.1)
Post: Mossberg Brownie Pepperbox .22
Ashley talks about one of her personal firearms, a Mossberg Brownie Pepperbox Pistol.
Post: Wesson & Leavitt Belt Revolver
You may not recognize the name Massachusetts Arms Co., but you likely recognize the players—Smith, Wesson, Stevens, and Ames. (1988.8.2480)
Post: William Harnett and the Faithful Colt, 1890
This firearm is not a real gun at all…or is it? An auction catalog from 1893 depicting it read: "A genuine old Gettysburg relic…"
Post: Winchester Model 1894 Lever Action Rifle
Remington used firearms as props for his artwork as well as in real life. Here's one of several firearms in our collection that belonged to him. (1.67.335)
Post: Ruger Semi-Automatic Pistol
Many people associate the Cody Firearms Museum with Winchester, but we also have a long history with Sturm, Ruger, & Co. In fact, we changed our name from the Winchester Arms Museum to the Cody Firearms Museum as a direct result of efforts from William B. Ruger, Sr. (2006.14.20)
Post: Herb Parsons's Winchester Model 71 Lever Action Rifle
To make movie magic, all it takes is a wizard. In the 1950 Universal International film Winchester '73, all they needed was the "Wizard with a Winchester" known as Herb. (2003.15.16)
Post: Lincoln-Head Hammer Gun
Yes, that is a President Abraham Lincoln's portrait bust in place of a traditional hammer. (1988.8.1241)
Post: American Trap Gun
Nothing says property and home defense quite like this 19th century American Trap, or Alarm, Gun. This was a popular type of firearm in the South in the mid-1800s, used to protect property, oftentimes found on tobacco plantations. (1988.8.3209)
Post: Browning Brother's Single Shot Rifle Patent Model
John Moses Browning (1855–1926) is regarded as one of the greatest—if not the greatest—firearms designers in history. (1988.8.313)
Post: Feltman Pneumatic Machine Gun
Is it a bird? Is it a plane? Is it a Tommy Gun? A very obvious "no" to the first two, but the third requires a second glance. It is actually an air gun made in Coney Island in the mid-twentieth century. (1993.8.26)
Post: U.S. Springfield-Allin Conversion Model 1866 'Trapdoor' Rifle
Many people assume "museum quality" refers to a firearm in good condition. But sometimes damaged and incomplete guns can tell the richest stories. (1.69.366)
Post: Winchester Wetmore-Wood Revolver
You may be thinking, Winchesters didn't make revolvers. But Winchester did, and the revolvers were actually quite innovative. (1988.8.998)
Post: Webley-Fosbery Automatic Revolver
A semi-automatic revolver? I promise I am not committing an egregious terminology faux pas. In 1895, a recoil-operated, automatic revolver was invented. (1988.8.2486)
Post: Hopkins & Allen XL3 Double Action Revolver
This .32 caliber Hopkins & Allen XL3 Double Action Revolver is tied to a local lady from Cody, Wyoming. (2004.20.1)
Post: DuBiel Modern Classic Rifle
In the 1970s this company created a new invention that went on to revolutionize centerfire bolt action technology in rifles.
Post: Colt Model 1877 "Thunderer" Double Action Revolver
From time to time, I am quite a cliché: I like a pretty gun. (2010.17.36)
Post: Tom Tobin's Colt Model 1878 'Frontier' Revolver
So many have heard of mountain men like Jeremiah Liver-Eating Johnson or Grizzly Adams, but I love finding more obscure mountain men and giving them their 15 minutes of fame. (2003.10.1)
Post: Walch 10-Shot Double Hammers Pocket Revolver
Most people associate the year 1860 and the New Haven Repeating Arms Company with the Henry Rifle. But check out this lesser-known and quite peculiar little gun manufactured in the same year by the same company.
Post: Winchester Model 1887, Serial No. 1
Serial number 1 is awesome enough—but I then read this sentence on the label: "Purchased by Henry Ford and presented to Harvey Firestone." (1984.2.1)
Post: Deringer vs. Derringer
While some manufacturers became creative with their copycat guns, some intentionally misspelled their firearms as "derringers."
Post: The Forgotten Winchester 1873 of Great Basin National Park
Staff from the Great Basin National Park found a 132-year-old Winchester Model 1873 leaning against a tree…and then a deluge of speculation about what happened to this gun emerged.
---
Tom Gresham's Gun Talk Radio
Video: From the FN Booth at the 2016 NRA meetings in Louisville, Kentucky. Guests include FN's Mark Hanish, Team Springfield shooters Jalise & Justine Williams, and Rob Leatham, and Ashley Hlebinsky of the Cody Firearms Museum. (May 29, 2016)
Video: Interview with Ashley Hlebinsky. (February 21, 2016)
Gun Talk Season 4, Episode 6: Old Guns, New Guns (May 28, 2015)
Video: Tom live at the 2015 NRA Show with guests Ashley Hlebinsky (Cody Firearms Museum); Ken Pfau (FNH); and Chris Killoy and Mark Gurney (Ruger).
Video: The new Cody Firearms Museum Curator, Ashley Hlebinsky (December 7, 2014)
Video: Tom talks with Ashley Hlebinsky with the Cody Firearms Museum, and Michele Makucevich with Swab-its (March 9, 2014)
---
Curator's Corner, NRA Annual Meetings
Video: Custom Winchester M1 Garand, 2015 meeting, Nashville, Tennessee
First aired May 11, 2015 on the Sportsman Channel: National Firearms Museum Senior Curator Phil Schreier and NRA News producer John Popp speak with Ashley Hlebinsky, curator of the Cody Firearms Museum. From the museum's collection, she displays a Winchester M1 Garand, made for presentation to General George S. Patton.
Video: Winchester 1866 "Yellow Boy," 2015 meeting, Nashville, Tennessee
First aired May 4, 2015 on the Sportsman Channel: National Firearms Museum Senior Curator Phil Schreier and NRA News producer John Popp speak with Ashley Hlebinsky, who presents a one-of-a-kind Winchester Model 1866, also known as "The Yellow Boy."
Video: Winchester 1895 Zane Grey Rifle, 2016 meeting, Louisville, Kentucky
First aired on July 19, 2016: National Firearms Museum Senior Curator Phil Schreier and NRA News producer John Popp speak with Ashley Hlebinsky, who displays a Winchester 1895, made for presentation to author Zane Grey.
---
Miscellaneous Videos and Blog Posts
Video: Remembering Tom Knapp
First aired February 7, 2014: Ashley Hlebinsky takes a look at the life of Tom Knapp and discusses recent recent acquisitions that are firearms he used during his time with CZ USA.
Video: Big Guns—Cody Firearms Museum
First aired July 23, 2015: The sixth episode of Cimarron's Big Guns takes you to the Cody Firearms Museum at the Buffalo Bill Center of the West in Cody, Wyoming.
Video: Celebrating 150 Years of Winchester at the Cody Firearms Museum (FMG Productions)
First aired February 17, 2016: More than 7,000 firearms reside inside the Cody Firearms Museum. 150 years of Winchester guns make up a large part of the collection.
Video: History of Guns in America (Women's Outdoor News, The WON)
First aired June 18, 2016: Ashley Hlebinsky shared the evolution of firearms, as well as a peek into her studies regarding the perception of firearms. Disclaimer: Ashley Hlebinsky and or the Cody Firearms Museum are in no way endorsing or condemning the #GunVote campaign by taking part in teaching us the history of firearms in this video.
15 Posts: The Truth About Guns: Interesting firearms at the Cody Firearms Museum.
3 Posts: Real Word Survivor: Firearms of John Johnston and Jedediah Smith.
14 Posts: Guns of the Old West: 14 "New" Old West Guns.
2 Posts: Personal Defense World blog: Pocket pistols and GLOCKs.
Post: Range 365: Ain't She a Pistol? 10 Historic Gun Ads Featuring Women.